Why Tesla's Cybertruck Design Makes Total Sense
And how it stacks up against the rest of the competition.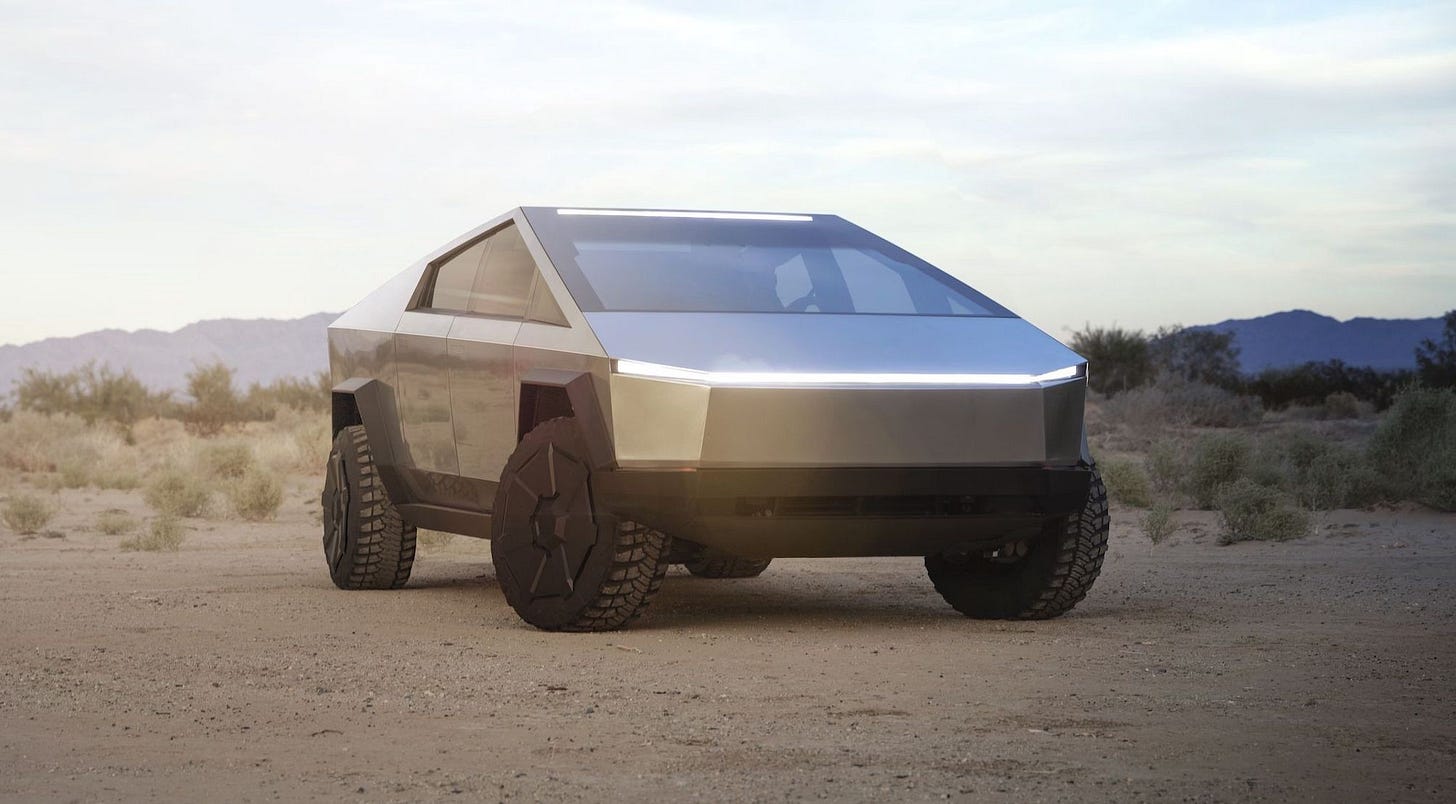 Source: Tesla
Intro
I was as confused as anyone when Cybertruck first came out. After so much anticipation, many rumors, and increasing competition, THIS is what Elon's answer was?
After I processed through the initial shock (especially to the window breaking) Cybertruck began to make more and more sense; Elon knew he had to price the truck competitively. Cybertruck also needed to perform even better than a traditional pickup. Truck consumers are some of the most brand-loyal consumers out there. Truckers also want a rugged vehicle that can go offroading and long distances — electric range often comes at a high price.
The market for a luxury pickup that could deliver on all fronts is small: Tesla needed to convince customers of Cybertruck's durability as a standard truck that's also priced well. As a result, Elon had to cut corners somewhere. He decided on decreasing costs through Cybertruck's physical appearance, instead prioritizing stats that compare favorably to traditional gas engines.
Towing
How much a truck can tow depends most on traction and frame strength. Traditional trucks use a cab on frame system, while Cybertruck uses an exoskeleton. In a traditional truck, a cab (where the seats are) is attached to the truck's base (the drive train), adding an extra connection that's also a potential point of failure. Cybertruck's exoskeleton removes this joint, making the entire truck one rigid body. The largest limiting constraint on max tow weight isn't grip or horsepower, it's the strength of the body. Towing something heavy induces a lot of torque on the body of a vehicle, and cab on frame trucks aren't as structurally sound as Cybertruck. This is why Cybertruck can tow similar amounts to traditional trucks, like the F-150, while being lighter.
Molds
The physical design of the car is unlike the rest of Tesla's lineup. Cybertruck trades the Model S, X, and 3's sweeping curves for rigid apexes and linear lights. This body shape has two main purposes: reduce costs and increase structural rigidity.
Press molding the metal body for a vehicle the size of Cybertruck would need a significant series of molds. In addition to the large sunk cost Tesla would have to pay for the appropriate machinery, each extra press slows down production. After having to postpone the release of the Model 3, the Tesla team decided to streamline Cybertruck's manufacturing process. This helped cut potential hiccups, and speed up build-times.
Paint (or lack thereof)
The Model 3 was also delayed because of paint issues. Customers reported paint peeling after 1,000 miles, causing an internal investigation into Tesla's paint shops. It seems that Elon didn't enjoy the process, and decided to get rid of paint altogether. This removed any potential complications that could pop up for Cybertruck, and ads to its brutal charisma.
Competition
Cybertruck has likely eliminated any large competition from Rivian and Bollinger. Both trucks start at significantly higher prices: $70k for Rivian's RT1, and $125k for the Bollinger B2. Both of these trucks don't offer the combination of tow capacity, speed, and range that Cybertruck has.
Tesla's main competition is likely to come from Ford: Ford's F-150 is the USA's best selling truck by far. A hybrid F-150 is slated to come out in 2020, and a fully electric model is expected in 2021. This will be in direct competition with Cybertruck. Ford needs to muster some response to begin future proofing its truck line. But Cybertruck isn't a large competitor yet. In 2018, 1.1 million F-150s were sold, a record amount. That's about one every 30 seconds. While Cybertruck is pre-ordering incredibly well, Ford still has time to come up with an electric truck response in the next few years.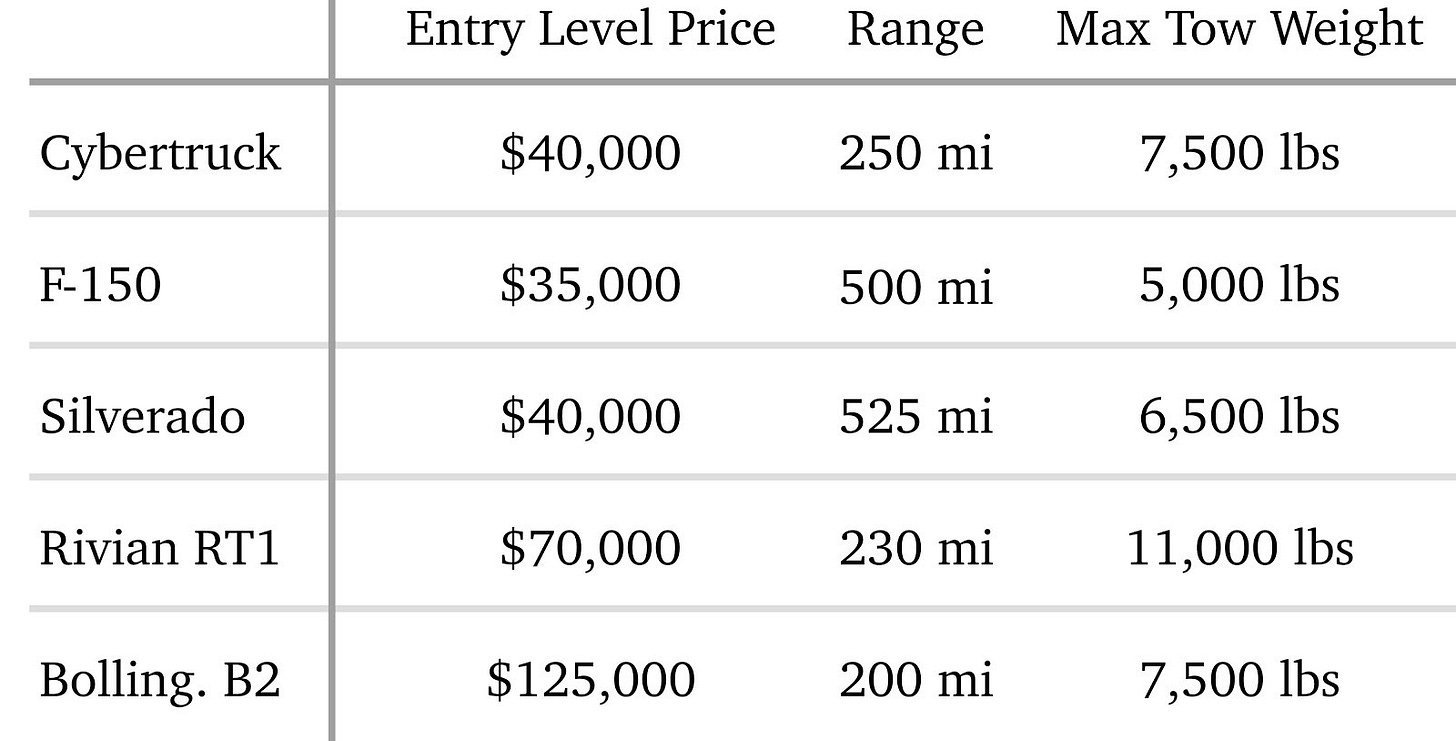 Sources: Manufacturer Websites
It is important to note that these comparisons are amongst the entry level options of all of these vehicles. (There are slightly cheaper versions of the F-150 and Silverado available, but those are targeted as construction site specific trucks that aren't meant for consumer use.) Cybertruck balances the performance of its competition for a similar starting price, even besting the F-150 and Silverado in tow weight. When specced up to the tri-motor design, Cybertruck's exoskeleton can withstand 14,000 pounds. Only Fords SuperDuty can tow more (the one with two wheels in the back).
Amazon backed Rivian, Tesla's main eTruck rival, is seemingly out specced by Cybertruck. With a range of 500 miles, the $70,000 tri-motor Tesla truck more than doubles Rivian RT1's range. The top-of-the line Cybertruck can also out-tow RT1 easily, at the same price.
Conclusion
With so many incentives pushing Tesla to an angular, bare-bones design, why not run with it? Of course there'd be no paint on aluminum paneling so strong a sledgehammer can't dent it. (Compare the sound of a regular truck's door getting hammered with that of the Cybertruck.) The small, slimly exposed lights enhance the angular design. Although likely illegal, a racing themed steering wheel only ads to the truck's aura.
And the design has been working. Searches for Cybertruck were higher in markets where the Model 3 wasn't as popular: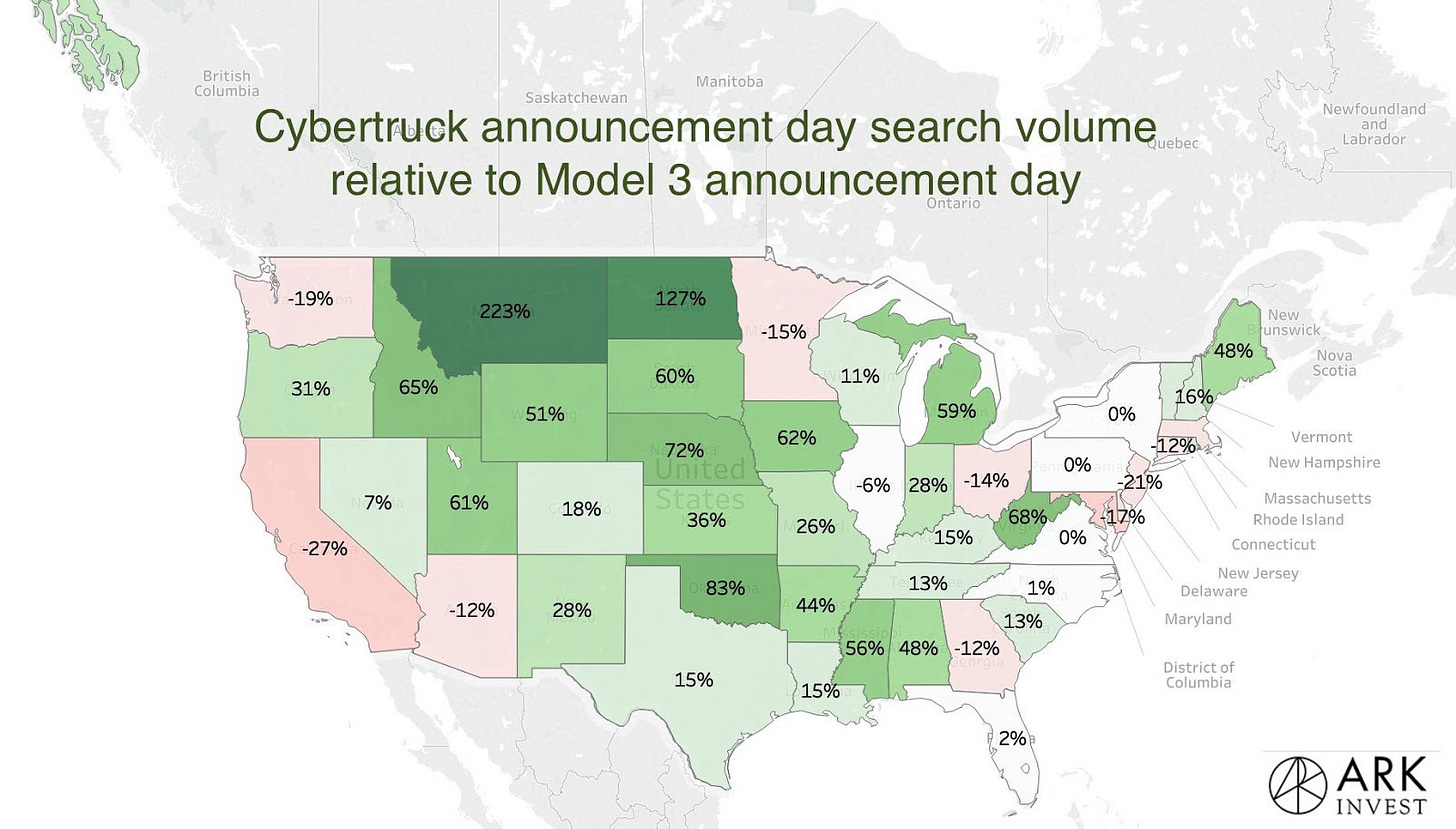 Source: ARK Investing
As of November 26, 2019, 250,000 Cybertrucks have been pre-ordered. To put that into perspective, Tesla sold 240,000 cars total in all of 2018. While Cybertruck is definitely a polarizing vehicle, its likeable enough to attract record numbers of potential customers.
Elon preached that Cybertruck was the next evolution of truck design. It is true that cab on frame designs have been the standard for nearly 100 years. Only time will tell if exoskeletons will be the route forward. A friend from Colorado refused to call Cybertruck a truck because of its lack of a cab. Although he may be a skeptic, consumers overall are eager to get their hands on "the future of trucks," as Elon said, even if the truck turns heads when you take it out for a spin.